About the book
Magic and adventure from the golden age of Prexcytian legend, The Lure of the Dragon is a superb collection of stories by some of the best authors in the industry. Enter into the fantastic realms of the age of dragons, times when magic held sway, when Prexcyt and the old ways struggled and vied with the humans' new world. In this volume you will find:
Debbie Ridpath Ohi on magic
Julia Nevins on gifts
Kari Maaren on storytelling
Lizette Tanner on youth
Mags Storey on games
Manda Whitney on tests

These are brand-new stories specially written for this collection, rare gems for the Prexcytian scholar. Delve in and discover the mystery and magic of Prexcyt and her world.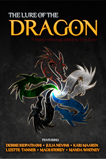 The Lure of the Dragon
A Prexcyt Anthology